Marine Construction Contractor
Quality Marine Construction Services Since 1987
Whether you own a home or a business on the water, there will be a time when you need a marine construction contractor. While there are many to choose from, not all of them have the skills and experience to complete the job correctly. That is why it is important to work with an experienced, licensed marine construction contractor. With that in mind, when you need marine construction services, give Wood Dock and Seawall a call. Established in 1987, our focus is marine construction. In other words, we have over 30 years of building and repairing structures in freshwater, saltwater, and coastal waterways.
By and large, we provide installation and repair services in Sarasota and Manatee counties.
Boat Docks
Over 30 Years of Building and Repairing Boat Docks
Whether your property is located on the shoreline, near a river, or on a lake, having a boat dock will make your waterfront living more enjoyable. As a matter of fact, boat docks will not only give you easier access to the water, but they will also enhance the value of your property. So, when you are ready for the boat dock of your dreams, give us a call. With over 30 years of marine construction experience, we are a leader in the boat dock building industry.
Seawalls
Seawall Installation & Repair for Waterfront Properties Sarasota and Manatee Counties
Shoreline erosion is a one of the most common reasons property owners install seawalls. In fact, seawalls are your first line of defense to fight erosion and keep your property in top condition. In addition to offering erosion protection, a sound seawall will also help protect your property from storm surge. For these reasons, seawalls continue to be a popular shoreline stabilization method. If you have decided that your property needs a new seawall or repairs to your current seawall, give us a call today.
Boat Lifts
Exclusive Hi-Tide Boat Lift Dealer
Whether you need a boat lift to accommodate a 4500 pound boat or a 120,000 pound boat, we can help! In other words, our lifts can accommodate any size boat. From gear drive lifts and four poster boat lifts to elevator lifts and eight post yacht lifts, we have the right size boat lift for your needs. Additionally, if you are not sure which boat lift to install, our team can help. First, we will meet with you at your home or business. Second, we will review your specific requirements. And third, we will recommend a lift style that meets all of your needs.
Jet Ski Lifts
Enjoy Fast and Convenient Water Access with Hi Tide Spinner X-2 Jet Ski Lift
If you own a jet ski and are looking for easy water access, contact Wood Dock and Seawall. As an exclusive Hi-Tide dealer, we have the perfect lift for you! In fact, our Hi-Tide Spinner X2 Jet Ski Lift is durable and easy to use. Additionally, the Spinner X2 is sleek and space conscious. In other words, you can zip your jet ski up the mast, and spin it over. In short, this makes for easy loading and servicing. All in all, whether you are looking for one lift, or ten lifts, we can help. In either case, we can install a Spinner X2 for you, affordably and quickly.
Rip Rap
Protect your Shoreline with Rip Rap
Rip rap is natural rock placed along shorelines to prevent water erosion. Also known as shot rock, rock armor, or rubble, it is commonly used throughout Florida. In fact, rip rap has increased in popularity due to its natural beauty, strength, and protective properties. Here at Wood Dock & Seawall, the stones we use are natural, long-lasting, and environmentally friendly. Additionally, to make sure the rocks stay permanently in place, we use stones sized from 6 to 12 inches. With that in mind, if you are looking for the best rip rap contractor, contact Wood Dock and Seawall. With over 30 years of marine construction experience, we are a leader in rip rap installation and repair industry.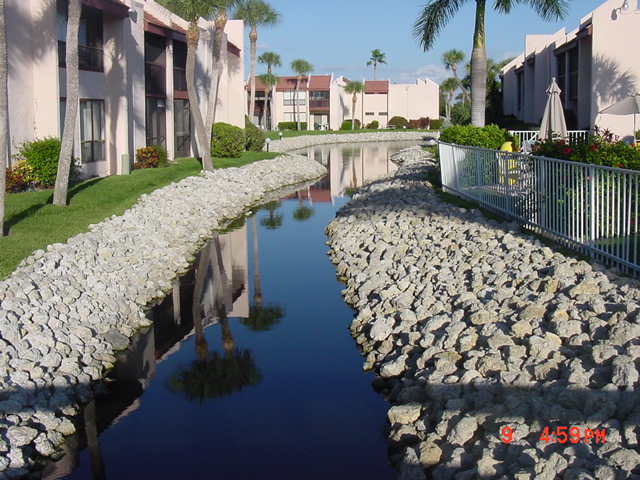 Boardwalks & Bridges
Over 30 years Experience Building Boardwalks and Bridges in Sarasota and Manatee Counties
If you own property with wetlands and want to add a boardwalk or bridge, you have come to the right place. In fact, our boardwalks and bridges will give you easy access to areas that were previously inaccessible. In other words, they open paths that were unreachable due to water and foliage. All in all, we can Help you Maximize your Water Access, Shoreline, and Wetlands. Providing you with the Best Outdoor Experience!
Marine Retaining Walls
Leading the Industry in Marine Retaining Walls
At Wood Dock and Seawall, we offer several solutions to protect your property. One of which is marine retaining walls. With this in mind, we want to make sure a retaining wall meets all your needs. Consequently, our team will consult with you at your location and review your requirements. Then we will recommend a retaining wall that fits your functional, aesthetic, and budgetary needs. To sum up, from design to construction, we do it all.
We only use the Highest Quality Products
When you choose Wood Dock & Seawall, you can rest assured knowing that you are receiving the best service and workmanship for your investment. At the same time, you are also receiving the highest quality products in the market. Your complete satisfaction is important to us. Not only are our materials durable, but they are also long-lasting. In short, you can count on us to complete your project affordably and efficiently.
Have the Best Marine Construction Contractor on your Side
In the event you need a marine construction contractor for your home or business, contact Wood Dock and Seawall. To sum up, we have served the marine construction needs in Sarasota and Manatee counties for over 30 years. That being said, our team possesses the specific knowledge and training for any marine installation or repair job. In short, we are committed to your complete satisfaction and will deliver the highest quality products while maintaining budget and following timelines. For more information about our services, contact us today. Otherwise, you can contact us online by filling out the form at the bottom of the page.
Great experience! Joey was very knowledgeable and helpful from the begging of the estimate, layout,design to the construction and completion of the project. Debbie was terrific with the communication between crews, billing, permitting departments, returned calls and emails promptly through out the process. Great family business to work with we are thrilled with the end result!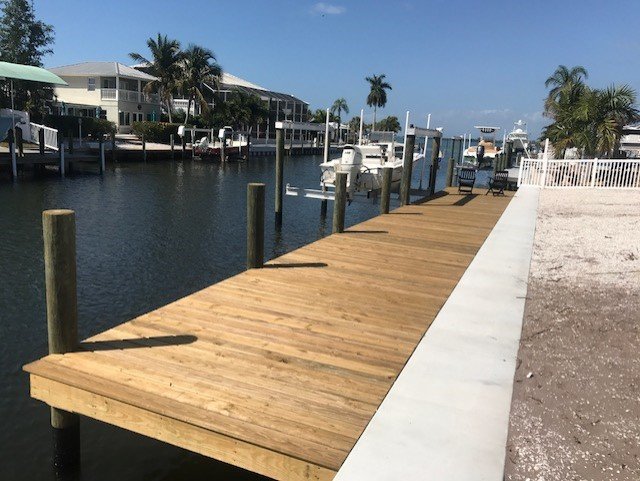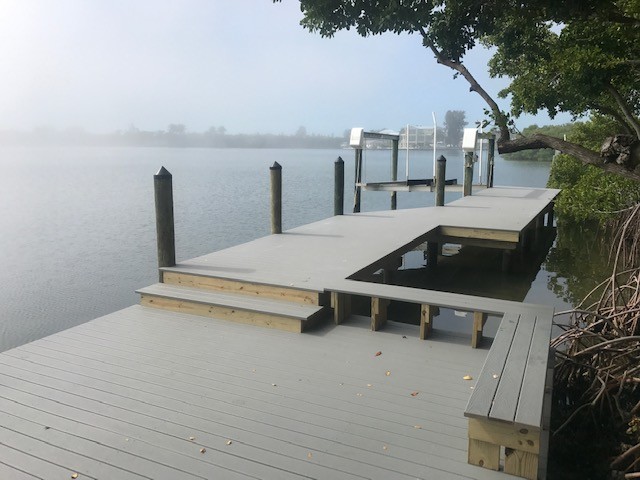 What Sets Us Apart from the Others
Marine docktor retail showroom
residential & commercial service
Schedule Your Free Consultation
Using High Quality Products From the Best of the Best
Manatee County
Anna Maria Island, Bayshore Gardens, Braden River, Bradenton, Bradenton Beach, Bradenton East, Cortez, Ellenton, Holmes Beach, Lakewood Ranch, Longboat Key, Oneco, Palmetto, Palma Sola, Parrish, Samoset, Snead Island, South Bradenton, Memphis, West Bradenton, Whitfield
Sarasota County
Bee Ridge, Bird Key, Casey Key, Fruitville, Gulf Gate Estates, Kensington Park, Laurel, Lido Key,  Nokomis, North Sarasota, Osprey, Plantation, Sarasota , Sarasota Springs, Siesta Key, South Sarasota, South Venice, St Armands Key, Tallevast, The Meadows, University Park