Quality Marine Boat Lifts and Excellent Craftsmanship Since 1987
If you own a boat, you have made a major investment. But did you know that a boat lift will protect your investment. In fact, boat lifts will keep your investment safe all year-long. Not only will you avoid damage to your hull, but you will also prevent the growth algae. Boat lifts will not only give you easier access to the water, but they will also reduce bottom line costs. In the event you are installing a boat lift, you need to make sure that it is built by a marine construction contractor. Not only do they know and understand waterfront construction, but they will also install it correctly. Fortunately, you have found us. At Wood Dock and Seawall, we have over 35 years of experience as marine construction contractors. In that time, we have installed thousands of boat lifts throughout our area.
Prevents Hull Damage
As mentioned earlier, a boat lift will prevent hull damage. In fact, storing your boat in the water is the leading cause of damage below the water line. For example, many boats that are left in the water end up with blisters on the hull. Moreover, outdrives, props, and shafts can be damaged as well. A boat lift will reduce damages. At the same time, it will extend the life of your boat.
Easier, Quicker Boarding
In addition to protecting your hull from damage, a boat lift allows you to quickly launch your boat. There are no lines to untie and no need to clean algae. Plus, if you have ever trailered your boat, you know how time-consuming it can be. However, if you have a boat lift, your fun is minutes away.
Prevents Algae and Corrosion
If you wet store your boat, it will start to collect algae. Which results in a residue that takes time and effort to remove. Left untreated, algae can lead to leaks. However, if you have a boat lift, your vessel will be out of the water. Which means less algae and less cleaning. If you add a canopy, you are protecting all aspects of your boat.
What Size Boat Lift do you Need?
Whether you need a boat lift to accommodate a 4500 pound boat or a 120,000 boat, we can help! Our lifts can accommodate any size boat. From gear drive lifts and 4 poster boat lifts to elevator lifts and 8 post yacht lifts, we have the right size boat lift for your needs. If you are not sure which boat lift to install, our team can help. First, we will meet with you at your home or business. Second, we will review your specific requirements. And third, we will recommend a lift style that meets all of your needs.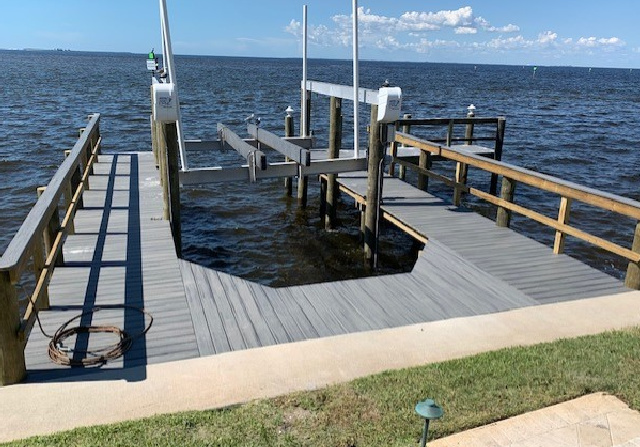 Keep your Marine Boat Lifts Stable, Secure and Looking Great with Accessories
We can provide any accessory you want, including:
Adjustable Height Pivoting Chock Brackets
Aluminum Catwalks, Drive Shaft Covers & Platforms
Angled Lifter Beams
Boathouse Brackets
Boarding Platforms
Bunk Riser Brackets
Cable Keepers
Catwalk Ladders – three to six steps
Cradle Stabilizers
Finger Pier Ladders
Flare Guides
Keel Pad and Sailboat Stanchions
Marine Brackets
Remote Controls
Stanchions
Standard Limit Switches
Steps Catwalk – 3 step & pyramid
Tunnel Hull Brackets
We only use the Highest Quality Products for your Marine Boat Lifts
When you choose Wood Dock & Seawall, you can rest assured that you are receiving the best service and workmanship for your investment. At the same time, you are receiving the highest quality products. At Wood Dock and Seawall, we are an exclusive Hi-Tide Boat Lift dealer. Not only is Hi-Tide one of the most established manufacturing companies in the industry, but it is also one of the best. They engineer, build, and test all lifts to make sure they are the best in the market. Each lift is constructed with marine grade aluminum and stainless steel, with welded construction throughout. As a result, they withstand everyday use and the full force of nature.
Have the Best Boat Lifts Contractor on Your Side
Wood Dock and Seawall has been the boat lifts contractor of choice for over 30 years. In that time, we have gained the knowledge and experience needed to make sure your boat lift meets your needs. Our team is committed to providing you with the highest quality products and finest craftsmanship in the industry. So, if you need a new boat lift installed or your existing one repaired or replaced, contact us today! Otherwise you can reach us on line at the bottom of the page.

These guys work so incredibly hard in the awful FL summer heat and in torrential downpours. They're here early (but not too early) every morning and get right to work. They're all hard and skilled workers. They got our boat lift up in a day! I highly recommend Wood Dock & Seawall for all your dock and boat lift needs!
What Sets Us Apart from the Others
Marine docktor retail showroom
residential & commercial service
Schedule Your Free Consultation
Using High Quality Products From the Best of the Best
When you choose Wood Dock and Seawall to install or repair your boat dock, you can rest assured knowing that you are receiving the best service for your investment. At the same time, you are receiving the highest quality products in the market, including:
Manatee County
Anna Maria Island, Bayshore Gardens, Braden River, Bradenton, Bradenton Beach, Bradenton East, Cortez, Ellenton, Holmes Beach, Lakewood Ranch, Longboat Key, Oneco, Palmetto, Palma Sola, Parrish, Samoset, Snead Island, South Bradenton, Memphis, West Bradenton, Whitfield
Sarasota County
Bee Ridge, Bird Key, Casey Key, Fruitville, Gulf Gate Estates, Kensington Park, Laurel, Lido Key,  Nokomis, North Sarasota, Osprey, Plantation, Sarasota , Sarasota Springs, Siesta Key, South Sarasota, South Venice, St Armands Key, Tallevast, The Meadows, University Park