Custom Marine Boat Docks Lakewood Ranch
Are You Looking to Install a Boat Dock in Lakewood Ranch? 
If you are looking for the best marine construction contractor with a long history of installing boat docks in Lakewood Ranch, contact Wood Dock & Seawall.  Whether you are looking for a floating dock or a fixed dock, our team can design a boat dock that fits your lifestyle and waterfront property needs. In business since 1987, we are one of the oldest and most experienced marine construction contractors in the area. We have installed, repaired, and replaced hundreds, if not thousands of boat docks throughout Sarasota and Manatee counties. Whether you are a homeowner, marina or business owner that needs boat dock construction, you can rest easy knowing that our team of specialists possess the specific knowledge for any size commercial or residential job.  With over 30 years of projects in Manatee and Sarasota counties under our belts, our expertise as a marine construction contractor translates to safe, precise, and expertly executed projects. Our boat docks are made of the highest quality marine grade pressure treated wood and composite decking from the brands you know and trust such as WearDeck™, Trex®, Lumberock®, TimberTech.  From private boat docks to a full-sized marina, we are the trusted team to choose.
Affordable, Precise Repairs for Boat Docks in Lakewood Ranch
Along with new custom boat dock design and installation, Wood Dock and Seawall also offers boat dock repair and maintenance. We can repair your current boat dock or help give it a new improved look.  Whatever your marine construction needs may be, contact Wood Dock and Seawall.
Do you Already Have a Dock, but Want to Add Some Accessories?
Whether you are looking for ladders, benches, or underwater lighting, the Marine Docktor retail showroom at Wood Dock & Seawall has all the accessories, equipment and supplies you need for your dock.  We carry the highest quality dock accessories at affordable prices.  Stop by our showroom today. 
What Type of Boat Dock Do I Need?
Choosing the right type of boat dock for your property involves more than just selecting a style that is visually pleasing. There are a variety of things to consider when determining your docks needs.
Asking yourself the following questions will be helpful.
How many boats will the dock be accommodating?
Will the dock be accommodating any other watercrafts such as kayaks or jet skis?
What is the depth of the water?
What are the conditions of the water in your area? Is there heavy boat traffic or frequent storms?
What is your budget for building the dock?
Do you have time to maintain the dock yourself?
We Custom Design Marine Boat Docks in Lakewood Ranch that are Durable, Beautiful and Increase the Value of Your Waterfront Property
Types of Boat Docks in Lakewood Ranch
After determining your answers to the above questions, determining the type of dock and type of material would be the next step.  Two types of boat docks that are offered by Wood Dock & Seawall are:
Traditional Permanent or Fixed Boat Docks: Permanent or fixed boat docks are long lasting and very durable. They are made with high quality materials and sturdy construction.
Floating Boat Docks: Floating boat docks are made of low maintenance materials which make them easy to maintain.
Boat Dock Features
Building your boat dock is as important to us as it is to you, which is why we offer nothing less than the best.  Some of our boat dock features include:
Marine Grade Pressure Treated Lumber: 8 – 10 inch 2.5 C.C.A. marine grade pressure-treated piling and decking with upgrades to the composite decking of your choice.
Stainless Steel Carriage Bolts: When building our boat docks, we attach the entire substructure with stainless steel carriage bolts.
Stainless Steel Screws: All decking is secured with stainless steel screws.
Marine Boat Dock Decking Material
Wood Dock & Seawall offers only the finest selection of decking material to design your boat dock. The types of decking material we offer are:
Marine grade pressure-treated wood pilling and a pressure-treated wood decking

– Pressure treated wood decking is a very popular choice for boat docks and marinas. It offers a traditional wood grain appearance which compliments a nautical setting. In addition to the aesthetic appeal, pressure treated wood dock planking is also one of the most cost-effective decking material for boat docks, which helps to make it a great option for small residential projects as well as larger marinas that are on a budget.

Composite decking material

–  If you are looking for a more maintenance-free dock, then composite decking is the choice for homeowners and marinas. Composite decking is available in a variety of colors which are often fade-resistant, and don't require any staining or sealing throughout its lifetime. In addition to being low maintenance, most composite dock decking options are backed by a manufacturer's warranty for both residential and commercial properties.
Work with The Best Marine Construction Contractor for Your Custom Boat Docks in Lakewood Ranch
Wood Dock & Seawall offers our customers over 30 years of experience. We are committed to delivering the highest quality products and the best customer service in the industry. You can count on us for professional service throughout your installation or repair. From boat docks to seawalls and boat lifts, we have worked with thousands of customers helping them solve their marine needs. Whether you are a homeowner, property manager, home builder, developer, private corporation or marina, contact us for all your needs. Contact us today!
Great experience! Joey was very knowledgeable and helpful from the begging of the estimate, layout,design to the construction and completion of the project. Debbie was terrific with the communication between crews, billing, permitting departments, returned calls and emails promptly through out the process. Great family business to work with we are thrilled with the end result!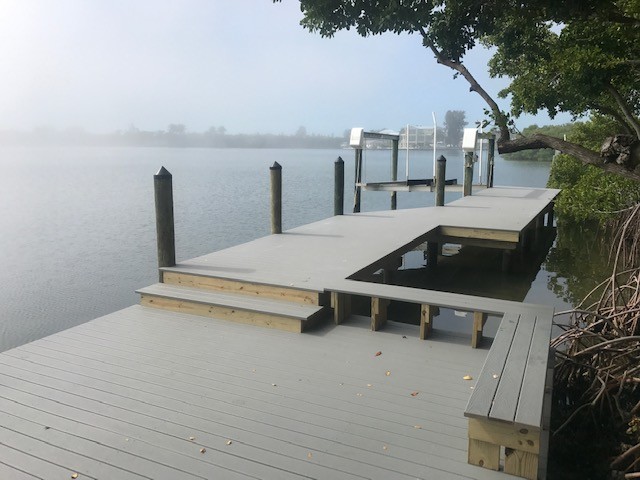 Using High Quality Products From the Best of the Best
When you choose Wood Dock and Seawall to install or repair your boat dock, you can rest assured knowing that you are receiving the best service for your investment. At the same time, you are receiving the highest quality products in the market, including:
Manatee County
Anna Maria Island, Bayshore Gardens, Braden River, Bradenton, Bradenton Beach, Bradenton East, Cortez, Ellenton, Holmes Beach, Lakewood Ranch, Longboat Key, Oneco, Palmetto, Palma Sola, Parrish, Samoset, Snead Island, South Bradenton, Memphis, West Bradenton, Whitfield
Sarasota County
Bee Ridge, Bird Key, Casey Key, Fruitville, Gulf Gate Estates, Kensington Park, Laurel, Lido Key,  Nokomis, North Sarasota, Osprey, Plantation, Sarasota , Sarasota Springs, Siesta Key, South Sarasota, South Venice, St Armands Key, Tallevast, The Meadows, University Park