Marine Construction Services Sarasota
Providing Quality Marine Construction Services in Sarasota since 1987
As one of Manatee and Sarasota counties oldest and most experienced marine construction services contractors, we offer a broad range of services including installation, repair, and maintenance of boat docks, ski lifts, jet ski lifts, seawalls, rip rap, marine retaining walls and more. Locally owned and operated since 1987 we have worked with thousands of homeowners, marinas, resorts, and commercial properties providing customized solutions designed to fit your lifestyle and waterfront property needs. We are a full service marine construction contractor that can handle every aspect of your project, from designing and planning to permitting and installation. When you choose Wood Dock & Seawall, you can rest assured knowing that you are not only receiving the best service and workmanship for your investment, but you are also receiving the highest quality products from the brands you know and trust such as WearDeck™, Trex®, Lumberock®, TimberTech® and Hi-Tide®.
Do you need a New Boat Lift Installed? Dock? Jet Ski Lift? Retaining Wall? Seawall? Riprap?
Marine Construction Installation 
If you need a new seawall, dock, boat lift or retaining wall installed, contact the top marine construction services specialists in the area, Wood Dock & Seawall. Our team will consult with you at your location, review your specific requirements and recommend a solution that fits your functional, aesthetic and budgetary needs. From the initial consultation and design to obtaining permits and construction, we do it all. We are dedicated to your complete satisfaction providing durable, long lasting materials, competitive prices and a manufacturer's warranty on any seawall, boat lift or retaining wall installation.
Marine Construction Repair
If you are in need of repairs to your boat life, seawall, rip rap, rock or retaining wall in Sarasota, contact Wood Dock & Seawall. We are one of the oldest and most experienced marine construction services contractors in the area. We have repaired thousands of seawalls, retaining walls, boat lifts and boat docks throughout Sarasota and Manatee counties. From seawall cracks and deck and handrail replacements to boat lift cradle replacements and cable respooling, our team can fulfill all the needs of your property or project, large or small. Whatever your marine construction needs may be, contact Wood Dock and Seawall.
Protect your Investment with Maintenance
Ensure your dock, boat lift, deck and pilings are safe and operating at peak performance with preventative maintenance from Wood Dock & Seawall. Proper and regular preventative maintenance will ensure they continue to operate correctly. Don't ignore preventative maintenance! Maintenance from Wood Dock & Seawall can prevent costly future repairs.
We are the Marine Construction Services Contractor of Choice in Sarasota Waterfront Communities and throughout Sarasota County
From Bay Island and Country Club Shores to Indian Beach and Bird Key, Wood Dock & Seawall is your Sarasota expert for all things having to do with boat lifts, boat docks, seawalls, jet ski lifts and more.  If you own a home or business on the water and need professional marine construction services, we are the contractor to call.  We proudly serve the following waterfront communities:
Bay Island
Bay Isles
Bird Key
Country Club Shores
Lighthouse Point
Harbor Acres
Bay View Acres
Sapphire Shores
Sorrento Shores
Southpointe Shores
Indian Beach
And More
Do You Build Marine Boardwalks & Bridges?
Yes, We Do! Whether you own a home, manage a property, own a marina, or run a nature preserve, if are looking to add a marine boardwalk or bridge to your property, contact us. We have been designing and building boardwalks and bridges throughout Sarasota and Manatee counties since 1987. Both functional and beautiful, our boardwalks and bridges will increase the value of your property and give you easy access to any area. When you work with Wood Dock & Seawall, we will meet with you to discuss your goals and visions and provide a solution based on your needs and budget.
Do You Need Marine Parts? Accessories?
From remote controls and motors to ladders and cables, the Marine Docktor retail showroom at Wood Dock & Seawall has all the equipment, parts and supplies you need. With over 30 years of marine construction service experience, we are ready to help you by offering expert advice, outstanding customer service and the best products in the industry. If we don't have exactly what you are looking for in stock, we can get it for you in a few days. Our inventory includes:
Belts
Benches
Boat Lift Motors
Boat Lift Switches
Bolts and Screws
Bumpers
Cables
Cleats
Custom Made Cable Assemblies
Dock Boxes
Extended Forks
Extra Bunks
Filter Cloth
Fish Cleaning Stations
Fish Tables
Guide Poles
Ladders
Limit Switches
Motor Covers
Piling Wraps and Caps
Poly Wrap
Pulleys
Remote Controls
Underwater Lighting
And More
Have the Best Marine Construction Services Contractor on your Side in Sarasota
Wood Dock & Seawall offers our customers over 30 years of experience. Locally owned and operated, we employ a team of highly skilled contractors that possess the specific knowledge for any marine construction, maintenance, repair or installation job. We are committed to providing the best customer service and the highest quality products in the industry. Whether you are a homeowner, property manager, home builder, developer, private corporation or marina, contact us for all your needs. Our services include:
Great experience! Joey was very knowledgeable and helpful from the begging of the estimate, layout,design to the construction and completion of the project. Debbie was terrific with the communication between crews, billing, permitting departments, returned calls and emails promptly through out the process. Great family business to work with we are thrilled with the end result!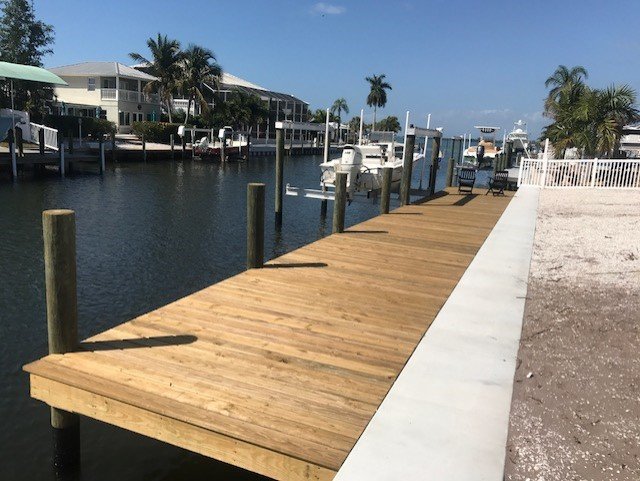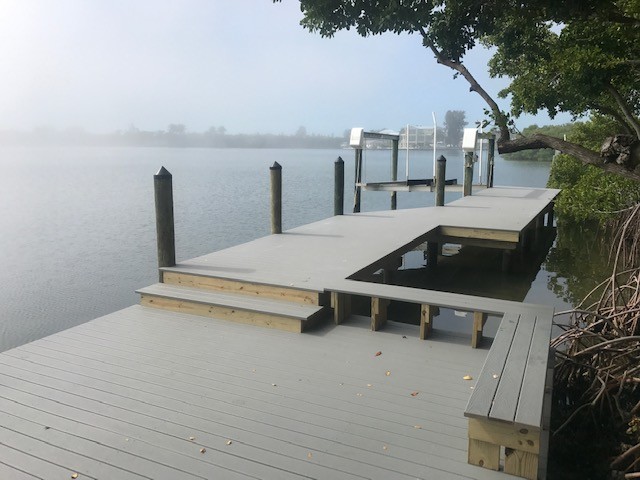 Using High Quality Products From the Best of the Best
When you choose Wood Dock and Seawall to install or repair your boat dock, you can rest assured knowing that you are receiving the best service for your investment. At the same time, you are receiving the highest quality products in the market, including:
Manatee County
Anna Maria Island, Bayshore Gardens, Braden River, Bradenton, Bradenton Beach, Bradenton East, Cortez, Ellenton, Holmes Beach, Lakewood Ranch, Longboat Key, Oneco, Palmetto, Palma Sola, Parrish, Samoset, Snead Island, South Bradenton, Memphis, West Bradenton, Whitfield
Sarasota County
Bee Ridge, Bird Key, Casey Key, Fruitville, Gulf Gate Estates, Kensington Park, Laurel, Lido Key,  Nokomis, North Sarasota, Osprey, Plantation, Sarasota , Sarasota Springs, Siesta Key, South Sarasota, South Venice, St Armands Key, Tallevast, The Meadows, University Park