Quality Floating Boat Docks for Your Waterfront Property
When it comes to designing and building outstanding floating boat docks, choose Wood Dock and Seawall. Whether you are looking for a basic or elaborate floating dock, we can help! In fact, we customize our floating boat docks to fit your specific waterfront needs. In other words, you tell us your vision, and we will build it. Our floating boat docks are built with the finest craftsmanship and materials. Consequently, they are easy to maintain, and stand the test of time. By and large, our floating boat docks are ideal for almost any marine situation.
The Features of Our Floating Boat Docks
Building your floating boat dock is as important to us as it is to you, which is why we offer nothing less than the best. In short, some of our boat dock features include:
Marine Grade Pressure Treated Lumber: 8 – 10 inch 2.5 C.C.A. marine grade pressure-treated decking with upgrades to the composite decking of your choice.
Stainless Steel Carriage Bolts: When building our boat docks, we attach the entire substructure with stainless steel carriage bolts.
Stainless Steel Screws: We use stainless steel screws to secure your decking.
Decking Material for Our Floating Boat Docks
Wood Dock & Seawall offers only the finest selection of decking materials to design your boat dock. As a result, we offer the following types of decking material:
Marine grade pressure-treated wood decking
Pressure treated wood decking is an exceedingly popular choice for boat docks and marinas. After all, this type of decking offers a traditional wood grain appearance that compliments a nautical setting. Additionally, pressure treated wood dock planking is also one of the most cost-effective decking materials for boat docks.
Composite decking material
If you are looking for a more maintenance-free dock, then composite decking is for you. In the first place, composite decking is available in a variety of colors. Second, staining and sealing is not required. And third, most composite dock decking options are backed by a manufacturer's warranty.
Benefits of Floating Boat Docks
Adapts to Changing Water Level
Unlike fixed docks, floating docks adapt to changing water levels. In other words, when the tides rise and fall, floating docks remain level with your boat.
Quality Materials and Custom Designs
As stated earlier, we customize our docks to fit your waterfront needs. Furthermore, they are constructed from the highest quality marine grade pressure treated wood material or composite material.
Installation is Quick
Floating boat docks do not need pilings or substructures for support. Consequently, they are quicker and easier to install. Overall, floating docks take less time to install than fixed docks. In fact, some floating docks are ready to use in a day. So, if you are looking for a quick way to start enjoying the water, a floating dock is perfect for you.
Affordable
By and large, floating docks are more affordable than traditional docks. For example, if you are building a dock in deeper water, you can avoid the cost of lengthy pilings.
Does Your Boat Dock Need Repairs?
If so, click here for more information, or contact us today!
Work with The Best Builder for Your Floating Boat Dock
Wood Dock and Seawall has been building floating boat docks in Sarasota and Manatee Counties since 1987. Since that time, we have designed and built thousands of docks. As a fully licensed marine construction contractor, we have the team and experience to build your dock affordably and efficiently. With this in mind, contact us today. Otherwise, you can reach us online at the bottom of the page.
Wood Dock & Seawall recently redid my 25 year old dock. They did an amazing job and were great to work with. I would highly recommend them!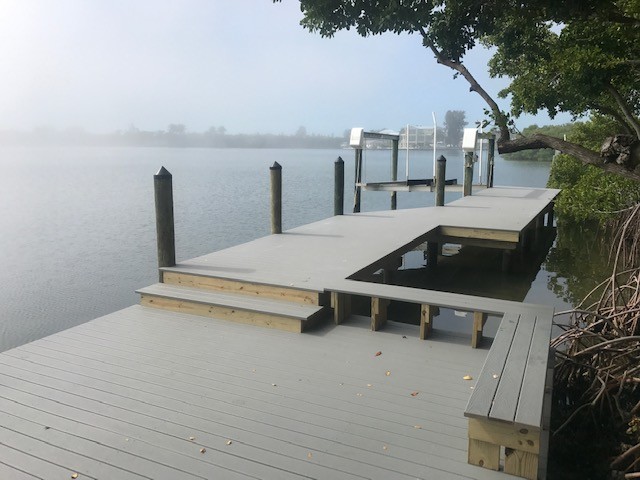 We are the Boat Dock Builder of Choice in Sarasota and Manatee Counties
Marine docktor retail showroom
residential & commercial service
Schedule Your Free Consultation
Using High Quality Products From the Best of the Best
When you choose Wood Dock and Seawall, you can rest assured knowing that you are receiving the best service for your investment. At the same time, you are receiving the highest quality products in the market, including:
Manatee County
Anna Maria Island, Bayshore Gardens, Braden River, Bradenton, Bradenton Beach, Bradenton East, Cortez, Ellenton, Holmes Beach, Lakewood Ranch, Longboat Key, Oneco, Palmetto, Palma Sola, Parrish, Samoset, Snead Island, South Bradenton, Memphis, West Bradenton, Whitfield
Sarasota County
Bee Ridge, Bird Key, Casey Key, Fruitville, Gulf Gate Estates, Kensington Park, Laurel, Lido Key,  Nokomis, North Sarasota, Osprey, Plantation, Sarasota , Sarasota Springs, Siesta Key, South Sarasota, South Venice, St Armands Key, Tallevast, The Meadows, University Park