Boat Lifts Bradenton Beach
Your Vessel Deserves the Best Boat Lift in Bradenton Beach
For fast, clean, durable, and quiet boat lifts in Bradenton Beach, contact Wood Dock & Seawall. We are the exclusive Hi-Tide boat lift dealer, a proven boat lift manufacturer with an exemplary reputation throughout the country. Each lift is constructed with marine grade aluminum and stainless steel with welded construction throughout to ensure it withstands everyday use and the full force of nature. Whether you are a homeowner looking to lift 1 boat or a marina that needs 20 lifts, we have the capability to install your new lift quickly, efficiently, and affordably. With over 30 years of experience, we have the knowledge, experience, and qualified team to custom tailor a boat lift to fit your unique waterfront and vessel. As a fully licensed marine contractor we handle all aspects of your installation from pulling permits to construction. We are dedicated to your complete satisfaction providing durable, long lasting materials, competitive prices and a 5-year labor warranty in addition to any manufacturer's warranties on any boat lift installation.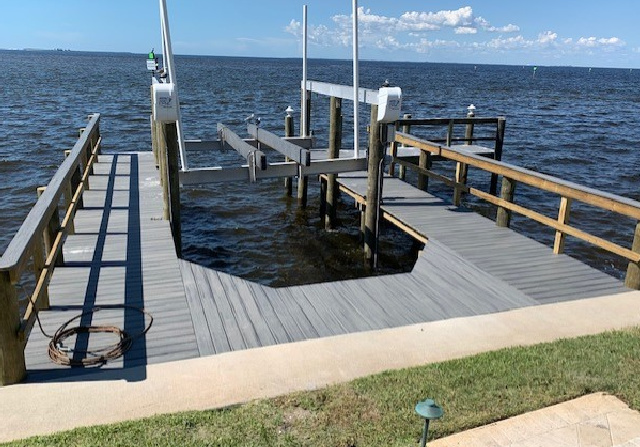 Service and Repair on All Makes of Boat Lifts in Bradenton Beach
Wood Dock & Seawall offers boat lift repair service for all makes and models. No matter what brand of boat lift you have, we can repair your lift quickly and affordably. Whether you have broken cables or electrical issues, there isn't a problem we cannot solve.
What Size Boat Lift do you Need?
Whether you need a boat lift to accommodate a 4500 pound boat or a 120,000 boat, we can help! Our lifts can accommodate any size boat. From gear drive lifts and 4 poster boat lifts to elevator lifts and 8 post yacht lifts, we have the right size boat lift for your needs. If you are not sure which type of boat lift to install, our team is here to help. We will meet with you at your home or business, review your specific requirements, and recommend a lift style that meets all of your needs.
How Do I Prepare my Boat and Hi-Tide Boat Lift in the Event of a Hurricane or Storm?
In the event of a storm or hurricane, the best solution is to remove you boat from the boat lift and park it in a safe location on shore if possible. With the high winds that accompany storms and hurricanes, leaving your boat on the lift could result in damage due to debris, other vessels, or docks. Additionally, after the storm has passed you may not have electrical power to lower your boat into the water. If you cannot move your boat to dry land, Hi-Tide recommends the following to support the safety of your boat before, during and after the storm has passed.
Turn off the power, including the breaker supply.
Raise the lift as high as possible. Pay attention to the cable.  Do not over wrap the cable or wind beyond the winding area.
Tip your boat slightly to the stern for drainage purposes. To prevent the boat from swinging and cradling secure your boat to the lifter beams and secure the lifter beams to the pilings.  If you are in a storm surge area, or expecting flooding, you want to prevent your vessel from becoming debris.  In this case tie several mooring lines to the vessel.
Keep your Marine Boat Lifts in Bradenton Beach Stable, Secure and Looking Great with Accessories
From catwalks and remote controls to limit switches and boarding platforms, our boat lift accessories include:
Adjustable Height Pivoting Chock Brackets

Aluminum Catwalks

Aluminum Drive Shaft Covers

Aluminum Service Platforms

Angled Lifter Beams

Boathouse Brackets

Boarding Platforms

Bunk Riser Brackets

Cable Keepers

Catwalk Ladders – three to six steps
Catwalk Step – 3 step & pyramid
Cradle Stabilizers
Finger Pier Ladders
Flare Guides
Keel Pad and Sailboat Stanchions
Marine Brackets
Remote Controls
Stanchions
Standard Limit Switches
Tunnel Hull Brackets
We are the Marine Contractor of Choice for Installation and Repair of Boat Lifts in Bradenton Beach Waterfront Communities and throughout Manatee County
From The Inlets and Coral Shores to San Remo and Waterlefe, Wood Dock & Seawall is your Bradenton Beach expert for all things having to do with boat lifts, boat docks, seawalls and more.  If you own a home or business on the water and need professional boat lift services, we are the contractor to call.  We proudly serve the following waterfront communities:
Coral Shores
Emerald Harbor
Flamingo Cay
Harbor Landings
Harbour Walk
Hawk Island
Hawks Harbor
Key Royale
Paradise Bay
Riviera Dunes
San Remo
School Key
The Inlets
Tidewater Preserve
Tidy Island
Waterlefe
Work with The Best Marine Construction Contractor for Your Boat Lift in Bradenton Beach
Wood Dock & Seawall offers our customers over 30 years of experience. We are committed to delivering the highest quality products and the best customer service in the industry. You can count on us for professional service throughout your installation or repair. From boat lifts to seawalls, we have worked with thousands of customers helping them solve their marine needs. Whether you are a homeowner, property manager, home builder, developer, private corporation or marina, contact us for all your needs.

These guys work so incredibly hard in the awful FL summer heat and in torrential downpours. They're here early (but not too early) every morning and get right to work. They're all hard and skilled workers. They got our boat lift up in a day! I highly recommend Wood Dock & Seawall for all your dock and boat lift needs!
What Sets Us Apart from the Others
Marine docktor retail showroom
residential & commercial service
Schedule Your Free Consultation
Using High Quality Products From the Best of the Best
When you choose Wood Dock and Seawall to install or repair your boat dock, you can rest assured knowing that you are receiving the best service for your investment. At the same time, you are receiving the highest quality products in the market, including:
Manatee County
Anna Maria Island, Bayshore Gardens, Braden River, Bradenton, Bradenton Beach, Bradenton East, Cortez, Ellenton, Holmes Beach, Lakewood Ranch, Longboat Key, Oneco, Palmetto, Palma Sola, Parrish, Samoset, Snead Island, South Bradenton, Memphis, West Bradenton, Whitfield
Sarasota County
Bee Ridge, Bird Key, Casey Key, Fruitville, Gulf Gate Estates, Kensington Park, Laurel, Lido Key,  Nokomis, North Sarasota, Osprey, Plantation, Sarasota , Sarasota Springs, Siesta Key, South Sarasota, South Venice, St Armands Key, Tallevast, The Meadows, University Park