Customized Boat Lifts from the Marine Construction Contractors that Bird Key Prefers and Trusts
Are you looking to install a boat lift? Do you need repairs? If you need installation or repairs for boat lifts in Bird Key, contact Wood Dock and Seawall. As licensed marine construction contractors, we specialize in waterfront construction. This includes boat lifts. From the smallest boat to the largest mega yacht, we have boat lifts that will fit any need in Bird Key. With over 35 years of experience, we have installed boat lifts for homeowners, businesses, HOA's, and marinas. Whether you are looking for 1 lift, or 10 lifts, we can help. In either case, we can install a boat lift for you, affordably and quickly.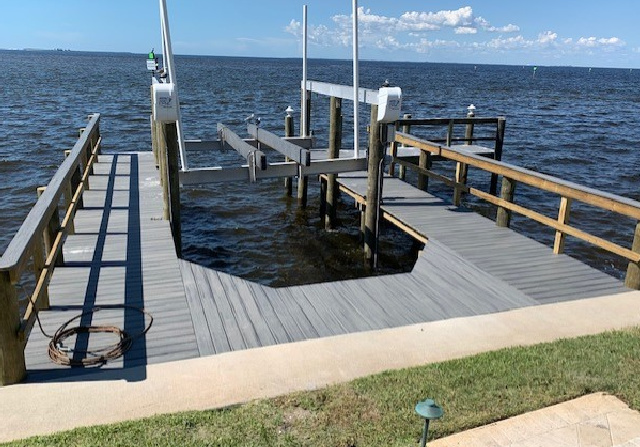 We only use the Highest Quality Products for your Marine Boat Lifts in Bird Key
When you choose Wood Dock & Seawall, you can rest assured that you are receiving the best service and workmanship for your investment. At the same time, you are receiving the highest quality products. At Wood Dock and Seawall, we are an exclusive Hi-Tide Boat Lift dealer. Not only is Hi-Tide one of the most established manufacturing companies in the industry, but it is also one of the best. They engineer, build, and test all lifts to make sure they are the best in the market. Each lift is constructed with marine grade aluminum and stainless steel, with welded construction throughout. As a result, they withstand everyday use and the full force of nature.
What Size Boat Lift do you Need?
Whether you need a boat lift to accommodate a 4500 pound boat or a 120,000 boat, we can help! Our lifts can accommodate any size boat. From gear drive lifts and 4 poster boat lifts to elevator lifts and 8 post yacht lifts, we have the right size boat lift for your needs. If you are not sure which type of boat lift to install, our team is here to help. We will meet with you at your home or business, review your specific requirements, and recommend a lift style that meets all of your needs.
Do You Already Have A Boat Lift? Do you Need a Replacement Lift or Repairs?
If your boat lift needs repair services, give us a call. The convenience of a boat lift makes your day on the water both easier and more enjoyable. That is, if your boat lift is working properly. Unfortunately, maintenance and repairs are an inevitable part of owning a boat lift. No matter how durable your lift is, damage can occur. Old age, rust, faulty motors, and hurricanes will take a toll on your lift. When you contact us, we will come to your home or business and inspect your lift. If your lift needs extensive repairs or is past its useful life, we will let you know and offer suggestions. We won't use high pressure sales tactics to sell you something you don't need.
Our Boat Lift Repair Services Include:
Cable Replacement
Cable Winders
Pulleys
Gear Plates
Gear Boxes
Motors
Switches
Zinc Replacement
And More
Prevents Hull Damage
As mentioned earlier, a boat lift will prevent hull damage. In fact, storing your boat in the water is the leading cause of damage below the water line. For example, many boats that are left in the water end up with blisters on the hull. Moreover, outdrives, props, and shafts can be damaged as well. A boat lift will reduce damages. At the same time, it will extend the life of your boat.
Easier, Quicker Boarding
In addition to protecting your hull from damage, a boat lift allows you to quickly launch your boat. There are no lines to untie and no need to clean algae. Plus, if you have ever trailered your boat, you know how time-consuming it can be. However, if you have a boat lift, your fun is minutes away.
Prevents Algae and Corrosion
If you wet store your boat, it will start to collect algae. Which results in a residue that takes time and effort to remove. Left untreated, algae can lead to leaks. However, if you have a boat lift, your vessel will be out of the water. Which means less algae and less cleaning. If you add a canopy, you are protecting all aspects of your boat.
Have the Best Boat Lifts Contractor on Your Side in Bird Key
Wood Dock and Seawall has been the boat lifts contractor of choice in Bird Key for over 35 years. In that time, we have gained the knowledge and experience needed to make sure your boat lift meets your needs. Our team is committed to providing you with the highest quality products and finest craftsmanship in the industry. So, if you need a new boat lift installed or your existing one repaired or replaced, contact us today! Otherwise you can reach us online at the bottom of the page.

These guys work so incredibly hard in the awful FL summer heat and in torrential downpours. They're here early (but not too early) every morning and get right to work. They're all hard and skilled workers. They got our boat lift up in a day! I highly recommend Wood Dock & Seawall for all your dock and boat lift needs!
What Sets Us Apart from the Others
Marine docktor retail showroom
residential & commercial service
Schedule Your Free Consultation
Using High Quality Products From the Best of the Best
When you choose Wood Dock and Seawall to install or repair your boat dock, you can rest assured knowing that you are receiving the best service for your investment. At the same time, you are receiving the highest quality products in the market, including:
Manatee County
Anna Maria Island, Bayshore Gardens, Braden River, Bradenton, Bradenton Beach, Bradenton East, Cortez, Ellenton, Holmes Beach, Lakewood Ranch, Longboat Key, Oneco, Palmetto, Palma Sola, Parrish, Samoset, Snead Island, South Bradenton, Memphis, West Bradenton, Whitfield
Sarasota County
Bee Ridge, Bird Key, Casey Key, Fruitville, Gulf Gate Estates, Kensington Park, Laurel, Lido Key,  Nokomis, North Sarasota, Osprey, Plantation, Sarasota , Sarasota Springs, Siesta Key, South Sarasota, South Venice, St Armands Key, Tallevast, The Meadows, University Park